Purpose of Making
Purpose of Making Mt. Fuji Spring Water Map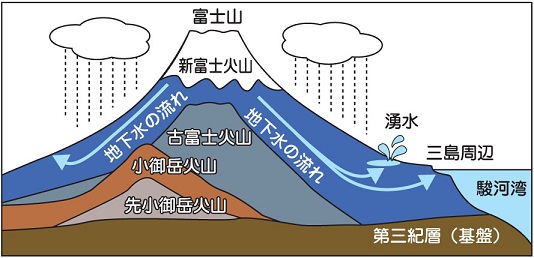 Water springs whose water source derives from Mt. Fuji can be found almost everywhere in both Shizuoka prefecture and Yamanashi prefecture. These water springs, however, are facing environmental problems and damage such as decreasing outflow at the gushing point, water contamination, and exploitation of the surroundings and taking measures to conserve these water springs, which is also effective in conserving the environment of the connected rivers and seas, has become a great issue.
Groundwork Mishima has been working on to conserve the importance, preciousness, culture, and history of these water springs by training "Mt. Fuji Spring Water Instructor", investigating water springs around Mt. Fuji, and making and disseminating "Mt. Fuji Spring Water Map" in 2006 and 2007.
In 2013, 6 years being passed by since then, even more and more people are entering and climbing Mt. Fuji adding more to environmental impact on Mt. Fuji and the condition of the water springs is getting worse.
Groundwork Mishima, therefore, conducted reinvestigation of the water springs and renewed "Mt. Fuji Spring Water Map" in 2013.
Through this, Groundwork Mishima aims to enhance the environment of Mt. Fuji, which has gained a world heritage status, and to strengthen the framework for conserving the water springs, which are the precious gift from the mountain of water, Mt. Fuji.
About Spring Water around Mt. Fuji
1. Introduction
NPO Groundwork Mishima started regular spring water investigation around Mt. Fuji as well as "Mt. Fuji Spring Water Instructor Training Course" to promote the leader and to instruct local residents the significance of maintenance and spring water ground as environmental resources.
Out of 16 classes in total, the course provides 5 fieldworks and 11 lectures including such as Mt. Fuji spring water mechanism and its ecosystem instructed by field specialists.
In 2006, 53 participants completed the course, and received certification as an instructor of Mt. Fuji spring water.
In 2013, Groundwork Mishima opened "Mt. Fuji Spring Water Instructor Training Course", consisting of 3 lectures and 1 fieldwork, mainly for the young to promote personnel who can conduct spring water investigation.

2. Spring Water Survey around Mt. Fuji
Investigation Method Overview

The spring water survey was proceeded dividing the area around Mt. Fuji into 4 groups, North, South, West and East.
Then, instructors in each area survey name of spring water, place, water amount, water quality,
biological information and spring water usage. Based on 「Spring water version of red data book」,
information from Shizuoka prefectual administrative offices as well as other additional information was collected from Mt. Fuji material pavilion and Cultural asset center in Numazu.
Water quality analysis including COD, ammonia, nitrous acid, nitric acid, pH, total hardness, water temperature, dissolved oxygen, and electric conducitivity was measured in the packing test.
The photographs in the spring water ground and the vicinity were also taken.


Spring Water in Shizuoka Prefecture

According to 「Spring water version of red data book」, there are over 200 spring water in Eastern region except Izu.
In entire Shizuoka prefecture, about 200 spring water places out of more than 800 were gone at the time of the survey.
It represents that the decrease of spring water in East is comparatively gradual compared with that in West region.


Spring Water in Eastern Region

(Shizuoka prefecture: Susono city, Gotenba city, Oyama cho)
Spring water in Susono often flows to Kise river.
Measured places are Mizugakubo origin of water, Tamukaino origin of water, Keigashima valley, Hirayama origin of water, Fudo spring water, Mikotono Izumi by Ashinoko skyline.
Spring water in Gotenba is divided into two different directions; the one goes to Kise river on the boundary of Gotenba Station and the other one flows to the Ayusawa river.
Measured places are Taki Fudo, Numata, Naka Shimizu Suijin park, Futako suijin spring water, spring water in Futako, Tataro spring water, Nakahata spring water, Shibanta spring water.
Spring water in Oyama cho flows almost to Ayusawa river.
Measured places are Subashiri spring water, Sukawa spring water, Ueno Tochinoki, Yusenhachiman shrine, Kintoki shrine, Kuwaki Sankyusou.


Spring Water in Southern Region

(Shizuoka prefecture: Numazu city, Shimizu cho, Nagaizumi cho, Mishima city)
Measuring places in Numazu are Hiyoshi shrine, Hara spring water park, Kumando, 2 spring water places at Ohno, Numata, Uchiurashige shrine, Taiheidaii.
Measuring places in Shimizu cho and Nagaizumi cho are Edakasui shrine, Yato, Minami Isshiki, Kubono spring water, Kakita river, Maruike.
Kakita river is divided by three parts, upper, middle and lower parts.
Measuring places in Mishima are Kohama pond, Shirataki park, Komo pond, Kagami pond, Mishima Baikamo no sato, Kaminari well, Mizunosono Green Land, Kiyomizu Green Land, Takekura, Ozawa, and Takikawa shrine.


Spring Water in Western Region

(Shizuoka prefecture: Fuji city, Fujinomiya city)
Measuring places in Fuji city are mainly selected based on 「Village in the romance and the fountain」.
Places are such as east and south sides of Miya shrine, Enmeiji millrace, Takigawa hall, Taki Fudo, Kagamiishi park,
Daishoji north side, Gyokusen shrine east, Yoshinaga No 1 Elementary School north, Io shrine front, Chogaku shrine front, Tajiku river, Yamakyo Paper Manufacture north, former public library south, Uto river, Sobina, and Eimei shrine.
Measuring places in Fujinomiya city are mainly selected based on 「Preservation spring water of Fujinomiya」.
Yoshima pond, Kami Koizumi Hachimangu, East of meeting house above water fall, North of Yamashita pulp, Izurimizu Hachimangu, Jinba water falls, Gotomegi bridge west, Yamaguchi Yoso west, Jinba water falls east, Muko Yamaso remain east, Inogashira Iseno Daimyo shirne, Inogashira bridge north, Hoshiyama Hosuiro east, South West of Sugita golf club, Wakutama pond which is the natural monument located northeast of Naka bridge, Shiraito water falls, and origin of Shiba river. Some tracking route is included in the map.


Spring Water in Northern Region

(Yamanashi prefecture: Fujikawaguchiko town, Yamanakako mura, Oshino village)
Oshino Hakkai represents the most famous spring water place in northern region.
Other major spring water places are such as Waku pond, Kagami pond, Shobu pond, Choshi pond, Sokonashi pond, Okama pond, Deguchi pond, Yamanaka lake, Kawaguchi lake, Saiko, Shoji lake, Motosu lake, Tuhara camping place (north bank of Saiko).
Besides, other places such as Umagaeshi and Senzui by Fuji Subaru line, Nekoana by Kakita river, Arakura, Gekkou shrine and Kanegafuchi by Miyagawa river, Natsukari and Tahara water falls are also known as spring water places.


Spring Water added in the survey of 2013

16 water springs was investigated newly in the survey of 2013, mainly located in the northern region of Mt. Fuji.
Western region; second station of ascending track at Fujinomiya city, south of Inokashira bridge, Oonakasato 1, Front of Hongoku temple in Fuji city, Hounji temple
Northern region; Senzui in Fujiyoshida city, Nishimachi Idemizu spring water, Shakusiyama spring water Fudou hot spring, Geckoji temple, Eijyuin in Tsuru city, Taro and Jiro's Fall, Chokei Yakushi Reimei origin of water, Spring water at Sengen shrine in Nishikatsura town, Pond at the riverside of Katsura river in Oshino village, Asa pond, 1 Yamanaka Yamanakako village

3 water springs, which was not listed in the previous survey, has been listed.
Eastern region; Tattaro in Gotemba city
Southern region; Yazu in Nagaizumi town, East of Tamaizumi temple in Fuji city

3. References
Spring water version of red data book" by Environmental protection division, department of community affairs of Shizuoka prefectual government
Spring water map" by Environmental protection division, department of community affairs of Shizuoka prefectual government
Mishima spring water map 2007" by Mishima spring water organization and NPO Groundwork Mishima
Walking course -city of beauty and springs-" by Fuji city government
Preservation spring water in Fujinomiya" by Fujinomiya city government
Spring water at surrounding of a foot of Mt. Fuji" by Shizuoka prefectual government
Major spring water in Shizuoka (Yamanashi) prefecture" by Ministry of the environment
Shizuoka spring water best 100" by the Shizuoka Shimbun
Mt. Fuji and its nature world" by Dobunshoin
Golden age of Mishima spring water" by Mishima Citizen's Association for Environmental Protection
Tourist information of Oshino villag by Department of regional development Oshino village, Tourism association of Oshino village
4. Postscript
Our mission for the future is to continue the surveys, to collect more details to inform all data.
Your opinion, concern, and information are welcome at anytime.
Please feel free to contact us.